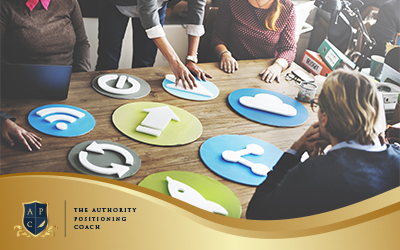 originally appeared on Forbes July 2017
In this series, we've looked at the several ways being viewed as an expert will help you achieve your business goals. Expertise opens doors and increases your authority within your industry, lets you command higher fees, and persuades customers to buy your products and use your services. In the first three posts, we considered the importance of obtaining leadership positions in industry organizations, blogging and guest blogging, and writing for top media outlets.
Your Target Audience Is Alive And Well — They're Living On Social Media
Social media isn't all that social anymore. According to HubSpot, 73% of Facebook's 1.23 billion active daily users go there for "professional purposes," and 63% of Facebook and Twitter users say they use both sites to find "news about events and issues outside the realm of friends and family." Almost half of online adults with a college degree are active users of LinkedIn compared to only 9% of online users with a high school education.
B2B and B2C marketers know the power of social media to move their businesses forward. More than 90% say social media is important to achieving their business goals, 83% are "actively pursuing" social media initiatives, and 66% say spending as little as 6 hours a week on social media dramatically increases their lead generation efforts.
How To Find And Influence Your Target Audience On Social Media
To increase authority in your industry with social media, you need to find the people you want to influence and send them authoritative content that links back to your website. The rules for doing this differ for each social media platform. Here, we'll look at the two biggest: Facebook and LinkedIn.
Facebook provides several useful tools to engage and influence your target audience. Here are three steps to do so:
1. Find your target audience. Facebook's Audience Insights, which you can access through the Ads Manager, is a powerful analytics tool to help you funnel content to your target audience as well as gain valuable demographic information about them. You can choose your audience based on factors like key demographics, Facebook page likes and online activity.
2. Create your business page. Once you've isolated your audience, you need to create a Facebook Business page. The first step is choosing a classification, such as "local business," "company" or "product." When you do, you'll be prompted to create content for subpages, like "about," "products" and "awards." You can use content from your website to complete these sections. You then need to choose a profile picture, which could be your logo or a professional headshot. You'll then be prompted to create an optional Facebook ad to draw your target audience to your business page.
3. Post and link relevant content. Facebook allows you to create various types of content posts, from plain text to video to captioned links. One of the hottest opportunities on Facebook right now is to use Facebook Live. Use this flexibility to promote your expertise and authority. For example, if you're an inbound marketing manager, you could post an article about search engine optimization with links to some of your media interviews on the same subject, or to your media page, or to your bestselling book on Amazon.
How To Promote Your Authority On LinkedIn
At first glance, LinkedIn looks a lot like Facebook — the difference is its users, who are more likely to be there for strictly business purposes. For example, half of LinkedIn users are following businesses on the site. Here are three steps to build your expertise with LinkedIn:
1. Create your company page. Go to the Add a Company page. Move your cursor over "Interests" and click on "Create a Company Page." Enter the information that LinkedIn prompts you for.
2. Request recommendations. LinkedIn gives you the option to request recommendations when you create your company page. Select this option. Customize the default recommendation request to better match your goals. This will increase recommendations.
3. Create status updates. LinkedIn lets you create status updates on company news. Use this functionality to distribute content you want your target audience to see. Include links to related content, like authoritative media interviews, or relevant, authoritative content on your website.
I reached out to Social Sales Trainer and Technology Speaker Phil Gerbyshak, a thought leader I follow, to hear his thoughts on LinkedIn Publisher. "[It's] a fantastic way to establish yourself as an expert in your field," he said, "and it's as easy as writing an article on your blog — only you get the benefit of all your existing LinkedIn connections as your audience, plus all of their connections and potentially all the people you connect to in the future. You write the article once and you share it to your LinkedIn feed to activate it and show you as the authority on the topic to your connections. Share it again into some relevant groups to gain authority with the people there. Share it privately with a few relevant connections to remind them you're the expert with those folks. Share it again to establish even more credibility with more and more audiences. If it's a helpful enough article, others will share it too, establishing you as an authority in their network. And let's not forget it shows up forever on your LinkedIn profile URL with a big thumbnail image, giving you authority forever."
Everything we've discussed — your leadership position, guest blogs, media hits, social media presence — are all parts of your Authority Positioning Portfolio™.
All components of that portfolio should be inextricably connected with one another, each pushing out the same message in a myriad of ways, each reinforcing and deepening the others. Said differently, success breeds success: Promote every success you achieve to ensure continued and growing success.
Getting positioned online and in social media will help you to be seen as an expert in your market, and it's easier than you might think.